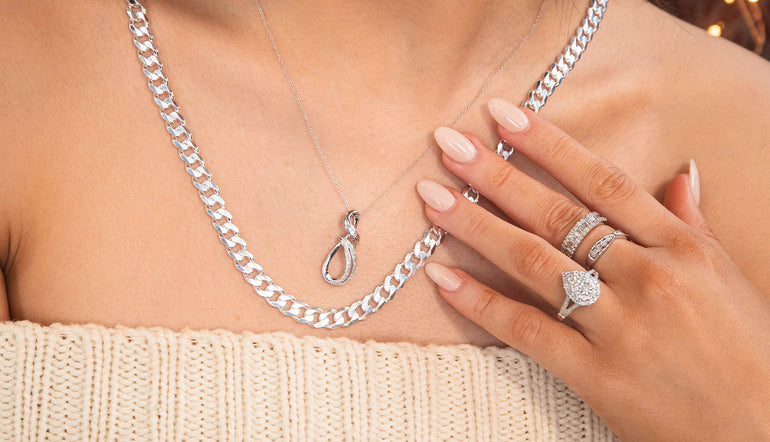 Are you ready to take your accessory game to the next level? Layering chains is a super fun and trendy way to add depth and dimension to any outfit. It's time to mix and match your favourite necklaces and pendants to create a look that expresses your true personality and style!
The best thing about layering chains is that you get to be creative and unique by creating a one-of-a-kind curation. While you should have fun and step outside your comfort zone, there are some things that you should keep in mind when styling a chain layer, and we're here to spill all the tea and share our top picks, so you don't have to go searching!
Overview:
The Basics Of Layering Chains
First things first, let's talk about length. You want to start with the shortest chain and work your way down to the longest one. This will create that layered look that you're going for with a tiered effect so that you can effortlessly show off all your favourite necklaces at once!
Now, let's talk about styling. The best necklace layer is created when you push the boundaries of style and experiment with different textures, colours and materials. So don't be afraid to have a go and play with dainty curb chains, paperclip chains, pendants and bold statement pieces like belcher and figaro chains. There's no wrong way to layer your chains. 
When it comes to proportion, it's all about balance. You don't want one necklace to overpower the others or for an attempt to go eclectic and cute to end up looking cluttered and unorganised. Aim for a harmonious look by considering the size, weight, and design of each necklace.
Lastly, have fun and let your creativity run wild! Layering necklace chains is all about expressing your unique style. So, grab your favourite necklaces and start layering - we can't wait to see what you come up with!
How to Layer Chains
Curb Chain - 40cm
A 40cm chain is a great place to start. We like to start with something a little thicker but still understated. This Sterling Silver Curb Dicut chain is a great place to start. The flat links sit flat against your chest for comfortable all day wearing, making it the perfect choker style necklace. 
Paperclip Chain - 45cm
Now let's add a little bit of spice to the mix with an uber trendy paperclip chain. These chain styles have been taking the world by storm with their elongated links that seem to effortlessly take any jewellery look to the next level. Crafted in the cool tones of sterling silver, these two chains alone make a stunning curation. 
Chain and Pendant - 50cm 
What would a chain layer be without a pendant to top it all off? This 50cm Sterling Silver Wheat Adjustable Heart Drop Chain sits just below the paperclip chain and the smooth nature of the wheat chain helps to create balance. This chain is also adjustable which means that you can play around with lengths to see what works best for you! We've paired this chain with a stunning Sterling Silver Zirconia Compass Pendant that continues with the silver theme, but adds a touch of sparkle and texture to the look. 
Now that you've got the rundown on layering chains, you can start creating your own looks. Embrace your individual style and take your outfits to a new level with a couple of simple style choices that make big impacts. Remember, the key to mastering this trend is to keep it simple and balanced. Too many chains can look cluttered and overwhelming, so choose your pieces wisely and don't be afraid to play around with different lengths and layers until you find the perfect combination.
Learn More: