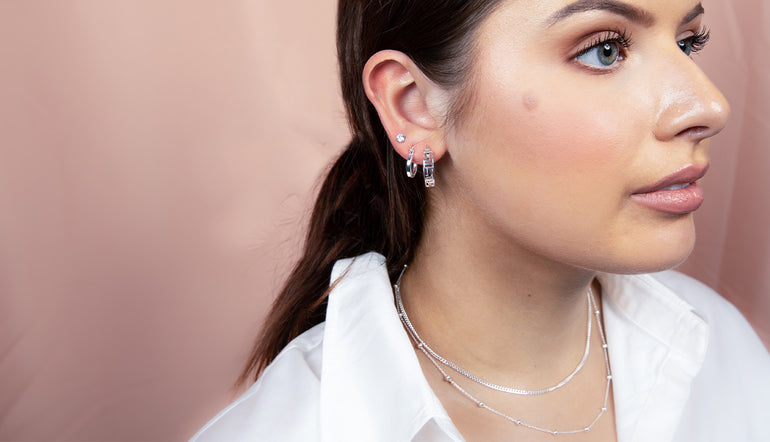 You've probably heard the term 'capsule wardrobe' circulating the media recently, and we are big supporters of the concept. This is by no means a new idea, and was actually introduced by Susie Faux, a London boutique owner in the 1970s. Her goal was to create a wardrobe that is simple, functional and stylish with pieces that could be worn in a variety of ways for different occasions. 
This concept can be used for both clothing and jewellery. In fact, we love this idea for jewellery because it means that you can invest in some good quality, stunning pieces that you love and can keep wearing again and again.
Gone are the days where you just can't find that perfect accessory. Read more to learn about capsule wardrobe and how to build your very own. 
Overview:
What is a Capsule Wardrobe?
A capsule wardrobe is the newest term for a wardrobe that consists of a few essential, timeless and versatile jewellery or clothing items that can be easily mixed and matched to create a number of different looks for any occasion. 
The goal of a jewellery capsule wardrobe is to simplify the process of getting dressed by having a curated selection of pieces that you love and all work together well. This will help you to save both time and money by reducing the need to constantly buy new jewellery to match different outfits. 
Typically a jewellery capsule wardrobe will consist of a few key pieces that are versatile and can be easily paired with anything. Some examples of good capsule pieces are diamond stud earrings, a simple gold chain and a pair of hoop earrings. The exact pieces will depend on your personal style and preferences, but you should keep in mind that you want your jewellery to be timeless. 
Building a Capsule Wardrobe
Identifying your personal style is the first step to building an effective capsule wardrobe. You can still have some fun with your jewellery choices, but take the time to consider how versatile it is and whether it is easy to pair with other jewellery pieces. 
Gold, Silver or Rose Gold Tone
It is best to stick to one metal colour when building your capsule wardrobe, as all of the pieces can be matched together seamlessly. If you're not sure whether you prefer yellow gold, silver or rose gold jewellery, then there are a few things that you should consider. First, choose jewellery that complements your skin tone. If you have cool undertones, your skin will have hints of pink or blue and jewellery made of silver tend to look great on you. If you have warm undertones your skin will have hints of yellow or peach and jewellery with a yellow gold, rose gold or copper hue will look the best on you. If you have a neutral skin tone, then you will have a mix of both undertones and can generally rock any colour you'd like.
Gemstones
When it comes to choosing gemstones for your jewellery, it can be tempting to go all out with fun colours. However, we're here to bring you back down to earth and bring our focus back to versatility. The best gemstone to choose is, of course, white or clear stones such as cubic zirconia and diamonds. No matter the colour of your wardrobe, clear gemstones will complement the look and add a hint of unmistakable sparkle! If you're set on including some coloured stones into your everyday looks, then we suggest choosing one or two colours and sticking with them from ruby and emerald to sapphire and garnet, a capsule wardrobe should still let you express your style. 
Essential Jewellery Pieces For a Capsule Wardrobe
One of the first questions that you may ask yourself is how many pieces of jewellery do you need for a capsule wardrobe, and the answer is not simple. Your capsule wardrobe will continue to grow and evolve over time, so don't be disheartened if you only start with a couple of solid pieces. A good starting point is two of every style; for example, two necklaces, two chains, two rings, two bracelets and two pairs of earrings. 
Chains 
Silver chains are a staple in your wardrobe and can be worn on their own or with pendants. Not only this, but you can easily dress them up or down for any occasion with a simple layer or sparkling pendant. We suggest investing in curb chains as a starting point because they are the simplest and most versatile choice. Go for a shorter 40-45cm chain and a longer 50-55cm chain, this way you can either wear them together or wear them singularity based on the neckline of your outfit. 
Earrings
There are so many different earring styles that you may feel overwhelmed with all of the options. To make it easier, start with a simple pair of stud earrings and drop earrings. This way you have the option of dressing up a look, or keeping it casual. For a hint of sparkle, you can't go wrong with cubic zirconia studs. Another must-have style is, of course, the chic and style of hoop earrings. Perfect for any occasion, hoops are on-trend yet still classic and timeless. 
Bracelets
Picking your first couple of bracelets can at first be daunting, however, do not worry! Begin by choosing a simple chain bracelet; this could be a belcher bracelet, a charm bracelet or heart bracelet. Add dimension and depth to your look while staying classic. Next, you can't go wrong with a silver bangle. Bangles are a great way to add style to a formal look or take a bracelet layer to the next level. And lastly, what is a bracelet collection without sparkle? Embrace glamour with a tennis bracelet or cubic zirconia bracelet that will let you step out in unwavering style everytime. 
In conclusion, a jewellery capsule wardrobe is an essential part of any fashion-conscious person's collection. It allows for versatile and effortless styling, while also providing a sense of personal expression through carefully selected pieces that reflect your individual taste and style. By investing in high-quality, timeless pieces that can be mixed and matched with different outfits, you can build a collection that not only stands the test of time but also adds value to your overall fashion aesthetic.
People Also Liked: