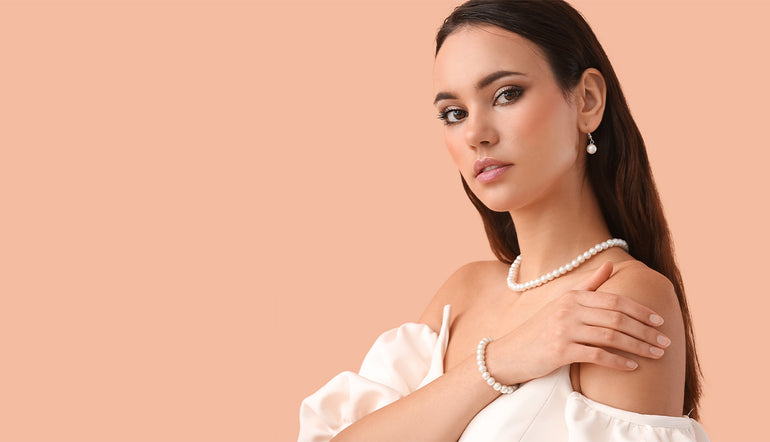 Pearls! You have probably noticed that these special gemstones have really made their comeback in fashion trends, and we predict that they are well and truly here to stay. Pearls have come in and out of popularity for many decades, so we think that it's fair to say that they've solidified themselves as a staple in any wardrobe. 
Styling pearl jewellery properly is super important to really make your look pop! You can take your look from average to wow with just a few pearl pieces. Whether you're wanting to add a unique edge to your jewellery or incorporate a new element of colour and texture, then we know you'll love the vintage glamour of pearls. 
A Look at Pearl Jewellery
Types of Pearl Jewellery
Pearl Necklaces
A pearl necklace is a fantastic choice if you're wanting to make pearls the centrepiece of your look. There are different styles to choose from so you can cater to your personal style. 
The traditional way to wear a pearl necklace is a string of large pearls. Today, we still love this style, however, now we prefer smaller stones that give your look a dainty and delicate feel. Pearl chokers are incredibly popular right now, and there's a good reason why! They look amazing when worn alone, and even better when layered with silver necklaces and silver chains to really up the anti.
If a string of pearls is a bit too much for you, then why not go for a subtle pearl pendant? Pearls look amazing when paired with silver because of the cool tones that they both embody. A pendant necklace is a versatile and stylish piece that you can also wear as part of a layer. 
Pearl Earrings
Elevate your earring stack with pearl earrings, adding a new element to a traditional look. The white lustre of pearls looks amazing when styled with the glitter of clear stones such as diamonds or cubic zirconia. 
For a stacking piece, go for stunning stud earrings. Some of our pearl studs also boast a range of other colour variations too such as pink, blue and grey that look incredible in the light with their unique reflections. 
Unleash your inner glamour with a pair of drop earrings that adorn the beauty of pearls. Dangle earrings are an unstoppable statement piece, so why not embrace your vintage style with a pearl addition. We love to pair our dangle pearl earrings with cubic zirconia studs to create the ultimate earring stack for a formal occasion and indulge in that hint of sparkle. 
Pearl Bracelets
Now you will definitely want to make sure that your look is balanced throughout all aspects of your jewellery curation. Try to incorporate silver within your jewellery choices to create texture and dimension. For example, if you are rocking a string of pearls necklace, then you will want to pick a bracelet that is slightly more delicate to break up the look. A bracelet is the perfect opportunity to have some fun with your pearl look and experiment with charms, chains and designs! You could even wear multiple bracelets in a funky layer to draw attention to your hands and wrists - a great idea if you've got a fresh set of nails. 
Where Can You Wear Pearl Jewellery?
Pearl jewellery is a timeless and classic accessory that will give your look an edge of vintage glamour that is unique to the gemstone. The beauty of pearls really does lie in its amazing versatility. Their lovely smooth lustre and complementary colour means that you can effortlessly dress them up or down to suit any occasion. 
Headed to a graduation? Gala? Or a wedding? The combination of diamonds and pearls is hard to miss with their stunning features that create the perfect pair. 
Want to look the part at your next job interview or work proposal? Nothing says "I mean business" quite like a beautiful pearl pendant. 
However, pearls are not limited to those special occasions, more and more, we're seeing these stunning gemstones being styled with your everyday, casual looks. Whether it's a spring inspired sundress or a jean and shirt combo, you can absolutely adorn your favourite pearl jewellery. 
How To Store Pearl Jewellery
Pearls are a rare and valuable gem that require special care to maintain their wonderful lustre and beauty. Here are some top tips to keep them looking good as new for years to come!
Storage
While it may be tempting to throw your jewellery in a jewellery box until the next time you need it, this could actually prevent you from doing just that! When jewellery is stored loose together, you run the risk of them scratching or tarnishing. The best way to store your jewellery is in a soft pouch or cloth. 
How to clean pearl jewellery at home
Cleaning pearls regularly will help them to stay shiny and reduce the effects of ageing. Avoid using any harsh chemicals or brushes, as they can cause damage to the stones. Instead, wipe them gently with a damp cloth and polish with a microfibre cloth. 
Wear pearls often 
If there is one thing about pearls, it's that they LOVE to be worn. Wearing your pearls often can help to maintain their integrity because of the natural oils in your skin!
Where Do Pearls Come From?
Pearls are the only gemstones that are formed inside a living creature, which is what makes them so unique to any other gemstone. They are created when a foreign object such as a grain of sand or piece of tissue becomes lodged inside certain species of mollusk and oyster. The creature makes a layer of substance called nacre around the object to protect itself, and over time these layers build up to form a pearl. 
As a result, pearls come in a range of sizes, shapes and colours, depending on the animal that formed it! Some of the most popular styles of pearls for freshwater pearls and saltwater pearls. Due to the rarity of these gemstones, cultured pearls are also a common choice for many people. Cultured pearls are created through a process that mimics the natural growth of pearls inside a mollusk. Instead of being grown naturally in the ocean, these pearls are grown in a laboratory using modern technology.
If you're not already on the pearl train, we suggest that you get on it quickly! Elevate your jewellery game and take your look to the next level with the perfectly styled pearl curation or even incorporate pops of pearl for a touch of vintage aesthetics.
People Also Liked: